Tiger Rock of Orange rise to occasion in International World Championship Tournament
Published 8:53 am Saturday, August 20, 2016
By Jamie Green
Focus your eyes. Focus your mind. Focus your body.
These are the three rules of concentration for Tiger Rock Martial Arts International. This was the unspoken mantra of so many who competed at the Tiger Rock Martial Arts International World Championship Tournament. Martial artists from all over the world gathered in Baton Rouge, Louisiana July 20 – 23 for the opportunity to test their skills against the best of the best. For some it was about more than just competition, it was an opportunity to test for the high rank belts of international status.
Athletes applied their skills to events such as Forms, Board Breaking, Sparring, Agility Courses,Traditional Free Design Forms, and Extreme Free Design Forms. Representing Tiger Rock Martial Arts of Orange, were 11 students and one instructor. Participants such as 8 year old Level 3 Blue Belt William Head, 9 year old Level 1 Brown Belt Darci Flynn, 12 year old 1st Degree Level 3 Black Belt Bryan Croaker, and 16 year old Level 2 Blue Belt Adrienne Norris gave their all and earned the respect of friends, family, and instructors alike with their hard work, determination, and sportsmanship. World Championship medalists include 8 year old Level 2 Blue Belt Zaiden Barron with Bronze in Extreme Free Design Forms and Bronze in Board Breaking, 8 year old Level 1 Blue Belt Gage Frazier with Silver in Board Breaking, 8 year old Level 1 Blue Belt Logan Frazier with Gold in Board Breaking and Gold in Sparring, 9 year old Level 3 Green Belt William Prewitt with Bronze in Forms and Bronze in Board Breaking, 10 year old Level 3 Green Belt Sheradon Helms with Gold in Board Breaking, 14 year old Level 1 Green Belt Tabitha Lance with Gold in Forms and Gold in Board Breaking, and 35 year old 2nd Degree Level 1 Black Belt Brandon Morrell with a Silver in Board Breaking. Instructor Alex Strait, 20, won a Bronze in Board Breaking and Bronze in Forms. In addition to his achievements in competition, Strait also tested and earned his 4th Degree Black Belt, which is the first internationally recognized black belt and a major milestone in a martial artist's career.
For such a modest academy, Tiger Rock Martial Arts of Orange came away with great results. "Every student poured their hearts into the competition. What a pleasurable experience to see these athletes rise to the occasion!" Strait said. "The teammates learned sportsmanship and how the power of positive thinking can lead you to where you want to be. Way to go Team Orange!"
, "The students of The Tiger Rock Martial Arts Academy of Orange did a tremendous job at the World Tournament in Baton Rouge," Senior Instructor and manager, Sr. 5th Degree Black Belt Glenda Carroll said. "It is an honor to work with these students and witness their accomplishments. I couldn't be more pleased with their endeavors as martial artists and look forward to many more years as their instructor. You guys Tiger Rock!"
"We're excited to get back to training as we begin our new training cycle that is starting on Monday," Owner of the Orange, Vidor, and Beaumont Tiger Rock Martial Arts academies, 7th Degree Black Belt Master David Howells said. "As one competition season comes to a close a new one is just beginning. We look forward to unlocking the untapped martial arts potential of our Back to School white belt beginners as they join our seasoned champions. Together they will begin their training for the Tiger Rock District Championships to be held in Lumberton this coming November. We know they will Tiger Rock it!"
Tiger Rock Martial Arts of Orange is located at 2318 Lutcher Drive In Orange and already in training for the 2016 District Tournament to be held November 5 in Lumberton.
_____________________________________________________________________________________________

    TV Commercial
_____________________________________________________________________________________________

David Howells teaches TaeKwonDo to Southeast Texans
HEATHER NOLAN
Published 12:00 am, Sunday, January 25, 2009
Try throwing a punch at David Howells and chances are he won't flinch.
That's because Howells, a senior instructor at Beaumont TaeKwonDo and Jiu-Jitsu, has hundreds of hands and feet coming his way on a daily basis while he's teaching TaeKwonDo and Jiu-Jitsu classes.
"When you first start out, you're in two diferent spheres," Howells said. "What makes you a great martial artist is when you combine those and you make combat and art one."
TaeKwonDo is similar to karate, where students are on their feet, learning classic martial arts techniques and choreographed moves, Howells said.
According to the International TaeKwonDo Alliance, Jiu-Jitsu is a style of fighting that combines ground fighting and grappling moves such as chokeholds and joint locks to overpower an opponent.
Brazilian Jiu-Jitsu can be used for self-defense, as a sport, and in mixed martial arts
competition, according to the alliance.
Howells moved to Beaumont from England in 1986, and took up TaeKwonDo classes at Marv Conway's TaeKwonDo Plus shortly after moving.
Howells was a rugby player, but said he was having to drive to Houston to play in tournaments, so he needed something to do in Beaumont for exercise.
He went into the U.S. Army in 1988, and in 1992 returned to Beaumont and started teaching classes.
He bought Conway's academy in Orange in 1992 and started teaching classes there, then bought the Beaumont academy about five years later.
Howells since has opened academies in Vidor and in Lumberton.
He said 75 percent of his students are children, but he teaches classes from age 4 to adult.
Children ages 4 and 5 are in the Tiger Cubs class, where they learn life skills and safety lessons.
Children ages 6 to 12 are in Junior classes, where they learn discipline and self-control, channel aggressive energy and develop self defense skills.
The Adult classes are for people 13 and older, and are designed for improving confidence, strength, endurance, flexibility and coordination.
"They l
earn how to have self control and they learn how to listen," he said. "They learn things and they feed it back to you, and its just so rewarding.
Read more: http://www.beaumontenterprise.com/business/article/David-Howells-teaches-TaeKwonDo-to-Southeast-701376.php#ixzz2FJipOcf0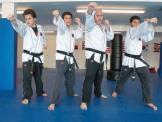 When Jerry Marshall, 50, of Mauriceville made an agreement with his three sons that he would join the Vidor Taekwondo academy if all three boys earned their black belts, his sons never thought he would actually go through with it. "I thought he was just talking," Nathan Marshall said. Nathan, Justin and Luke Marshall started Taekwondo training in 2006 and were black belts within two years. "I told them after their first belt testing that if they all made it to black belt, then I would sign up," Jerry said. He kept his promise to his sons — twins Nathan and Justin, 16, and Luke, 13 — joining Vidor Taekwondo at the age of 47, but admitted that the physical demands have been challenging."There are a lot of (kicks) that I can't do," he said. "I'm 250 pounds and 50 years old; I can't do some of these (moves). But all the instructors ask is that you give your 100 percent and put forth the effort."Despite the aches and pains, he earned his own black belt within two years and has had perfect attendance since joining."Mr. Marshall has not missed a class in over three years," said Glenda Carroll, senior instructor and senior fifth-degree black belt at Vidor Taekwondo. "This is something that I have never seen before in my career. Whenever he takes on something, whether it is a hobby or physical fitness — whatever it is — he gives 100 percent. I think he does this not only for himself, but also to motivate and set an example for his sons."Carroll said that Jerry's influence is reflected in the boys' dedication and success."They have always had very good attitudes and have been willing to learn," she said. "That has set the stage for them to excel."Jerry said that Taekwondo has brought him and his family closer together and has made him feel young again."It's been a lot of fun for me," he said. "It's like I am a teenager again."The three boys are proud of their father's accomplishments and the fact that he kept his promise."It shows that he is true to his word," Justin said. "He's a good dad, and he wants to spend time with his kids.""One of my proudest moments was when I was a red belt at testing," Jerry said. "I went out there, did my form, and I came back to sit down. I sat down (next to my sons) and all three of them congratulated me. Justin and Luke gave me thumbs up, and Nathan leaned over and said, 'Daddy, you nailed it.' That made me so proud — more proud than any of these belts I've earned."Although Jerry said he is used to setting an example for his sons in every aspect of their lives, it is his sons' standards that he must live up to in Taekwondo. Nathan, Justin and Luke are third-degree black belts and Jerry is a first-degree black belt."They have been black belts for four years, and I've been a black belt for one," Jerry said. "It puts me behind them, so I have to live up to them — instead of them having to live up to me."This presents a unique situation, in which the child becomes the leader instead of the parent, Carroll said."My Taekwondo students have realized that you can learn from anyone, whether they be older than you or younger than you," she said. "When you show them respect and allow them to teach, it allows them to really show their personality and to grow. This gives the child an opportunity to share something with their parent that they really enjoy, and it gives them an opportunity to see what it feels like to be a leader."
David Howells, owner of Beaumont Taekwondo, Vidor Taekwondo and Orange Taekwondo and sixth-degree master black belt, said that while most families are divided by their day-to-day activities and might shut themselves off from each other, families that find a common interest, such as Taekwondo, can build healthier relationships with each other."You've got age differences and generation gaps," he said. "Everybody has their own activities that they do. Dads don't tend to work out with their daughters. But if you have something that you do together — something that can connect you (as a family), it is very powerful."Howells said it is the routine and the environment that bring family members closer together."You're doing the same workout, same routine, same mat training and the same target training," Howells said. "My daughter (Sasha) started in Taekwondo when she was 4 (she is now 19). What did I have in common with a 4-year-old girl? But when we do Taekwondo together, we have an understanding because we are going through the same process. That's a powerful statement to your kid."
R.J. Mendez, a second-degree black belt, instructor at Beaumont Taekwondo and father of two, said the martial art made a powerful statement in his life, as well, and might have just saved it."I became sick, and I went to the doctor," he said. "I was over 300 pounds, and I was getting worried (about my health) because my family has a history of diabetes. I wasn't even able to play with my boys because I'd run 15 feet, and I would be out of breath. I put them in Taekwondo and joined myself. Now I'm 194 pounds and have lost over 100 pounds. I did it for my boys so I can make sure I can live a long, happy life. It's a healthy activity that we do together."Mendez said Taekwondo has also brought him and his sons, Ricardo Mendez Jr., 7, and Isaiah Escamilla, 10, closer together as well."I used to work at a pipeline company, so I was away from (my sons) a lot. They grew up pretty fast. But I joined Taekwondo and became an instructor; I'm here with my boys all the time now," he said. "As soon as they get out of school, they come (to the academy) and help me teach class. We're a lot closer now."The Mendez and Marshall families are not the only ones in Howells' Taekwondo academies."There are probably over 100 families enrolled in my academies in the Golden Triangle," he said. "Parents enroll their kids first, but they're really interested in doing it as well."
Jerry Marshall said he hopes more families will consider taking Taekwondo together because they will benefit physically and emotionally."My family has a history of diabetes and heart problems, but Taekwondo has kept my body healthy," he said. "I encourage people to do it because it will give you focus and relieve stress. You're never too old to do it."
"We have a saying here," Howells said. "The family that kicks together sticks together, and it's true."
For more information, visit www.tkdtexas.com or call (409) 838-6667.